One of the more interesting tasks I am looking at at the moment….
A few of my friend's web sites were penalised recently. The site pages seemed to be hit with a -50+ penalty.
First – Google rankings for main terms tanked….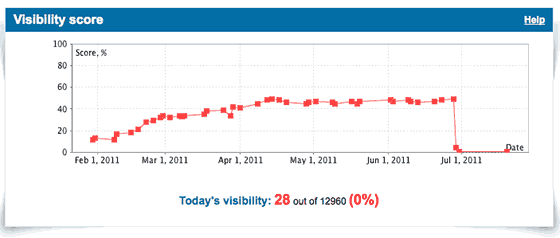 … which led to a traffic apocalypse of course….

…and they got a nice email from Google WMT:
Google Webmaster Tools notice of detected doorway pages on xxxxxxxx - Dear site owner or webmaster of xxxxxxxx, We've detected that some of your site's pages may be using techniques that are outside Google's Webmaster Guidelines. Specifically, your site may have what we consider to be doorway pages – groups of "cookie cutter" or low-quality pages. Such pages are often of low value to users and are often optimized for single words or phrases in order to channel users to a single location. We believe that doorway pages typically create a frustrating user experience, and we encourage you to correct or remove any pages that violate our quality guidelines. Once you've made these changes, please submit your site for reconsideration in Google's search results. If you have any questions about how to resolve this issue, please see our Webmaster Help Forum for support. Sincerely, Google Search Quality Team
Doorway pages?
Doorway pages are typically large sets of poor-quality pages where each page is optimized for a specific keyword or phrase. In many cases, doorway pages are written to rank for a particular phrase and then funnel users to a single destination. Doorway pages are web pages that are created for spamdexing, this is, for spamming the index of a search engine by inserting results for particular phrases with the purpose of sending visitors to a different page. They are also known as bridge pages, portal pages, jump pages, gateway pages, entry pages and by other names. Doorway pages that redirect visitors without their knowledge use some form of cloaking. Whether deployed across many domains or established within one domain, doorway pages tend to frustrate users, and are in violation of our Webmaster Guidelines. Google's aim is to give our users the most valuable and relevant search results. Therefore, we frown on practices that are designed to manipulate search engines and deceive users by directing them to sites other than the ones they selected, and that provide content solely for the benefit of search engines. Google may take action on doorway sites and other sites making use of these deceptive practice, including removing these sites from the Google index. If your site has been removed from our search results, review our Webmaster Guidelines for more information. Once you've made your changes and are confident that your site no longer violates our guidelines, submit your site for reconsideration.
Google being more aggressive with doorway pages?
I didn't immediately class the pages on the affected sites in question as doorway pages. When I look in Google Webmaster Forums there are plenty of people asking questions about how to fix this – and as usual – it seems a bit of a grey area with a lot of theories….. and some of the help in the Google forum is, well, clearly bollocks.
I wonder if people even realise they are building what Google classes as doorway pages these days….. and it's indicative that ….. what you intend to do with the traffic Google sends you may in itself, be a ranking factor not too often talked about. (Distilled has a timely complimentary piece to this today which is worth a link and save me the bother – time based penalty in Google.)
Interesting stuff for a seo geek.