One time (at band camp) I manipulated first link priority to the home page of a site for the site's main keyword – that is, instead of using 'home' to link to my home page, I linked to the home page with "insert keyword"). Soon afterwords the site dropped in rankings for it's main term from a pretty stable no6 to about page 3 and I couldn't really work out exactly any other issue.
Of course, it's impossible to isolate if making this change was the reason for the drop, but lets just say after that I thought twice about doing this sort of seo 'trick' in future on established sites (even though some of my other sites seemed to rank no problem with this technique).
Confused as to the best practice?
So was I.
So I formulated a little experiment to see if anchor text links had any impact on an established home page (in as much a controlled manner as possible).
*****Setup – I EDITED THIS A BIT: Basically the search term (anchor text) I was looking for was "'keyword1 (not present on the target page) + 'keyword2 '" -(minus) 'keyword3 also not on target page but a common word that would accompany keyword1 '" – I did this to get rid of a lot of noise in the serps for more relevant pages to the original keyword phrase. Also this keyword (keyword1) appeared in anchor text  on only ONE internal link on a static page which had no other links to the home page).*****
Result:
Well look at the graph below.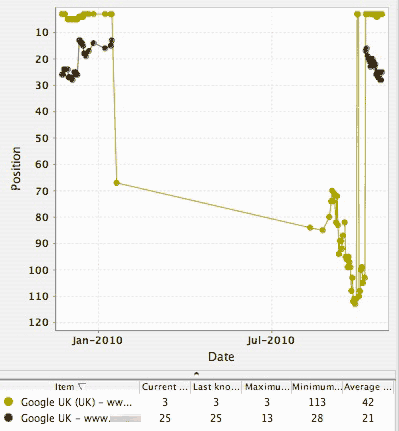 It did seem to have an impact.
However that massive drop for months is kind of worrying.
From Jan to July the site was nowhere for the phrase. Although it has just jumped 105 places back to no3 for the test term (which was a geographic location – not a made up word).
This change could be down to other reasons as I said – Google is always tweaking things. Perhaps this ranking drop would not have happened if the keyword was present on the target page.
It's very posible linking to your home page with keyword rich anchor text links (and that link being the ONLY link to the home page on that page) can have some positive impact in your rankings, but it's quite possible attempting this might damage your rankings too.
Trying to play with first link priority is for me, a bit too obvious and manipulative these days, so I don't really bother much, unless with a brand new site, or if it looks natural, and even then not often, but these kind of results make me think twice about everything I do in seo.
I kind of stay away from the more manipulative onsite stuff these days.
I thought I'd share and let you decide on the potential risk or reward, or comment on…..