When I find a simple tool I like I usually stick with it forever. But with Hittail totally whacked the last 2 weeks, i was forced to look elsewhere for my real time traffic stats. I am so glad I did.
I'm amazed at the simple things Clicky (AFF*)does so effortlessly. The control panel seems so much more intuitive than for instance Google Analytics. Instantly accessible.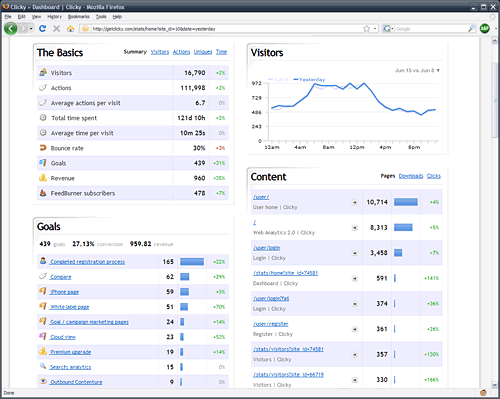 I tried a few real time web stats analytics packages out (I like software with a free trial) and I must say, Clicky is brilliant.
See who is on your site AT THAT VERY MOMENT
See where traffic is coming from AND track outbound visitors too
See your valuable incoming links in action
See a MORE ACCURATE bounce rate for your pages
Too much good stuff to mention
…and best of all, Clicky might very well be FREE if you don't have more than 3,000 page impressions a day – ideal for small businesses.
They even give you an easy affiliate link to promote the software if you like it – which I very much do (so I am using that affiliate link).
Telling you. Try Clicky PRO out FREE. (AFF*) Excellent analytics, and easy to install too.
*Affiliate Links Disclosure – As a general linking policy and to comply with Google Webmaster Guidelines, I nofollow ALL links on Hobo where there is commercial intent on my behalf, and clearly label affiliate links with (AFF).