Fact 1. The UK is now in recession. You may be thinking of employing a SEO company to help you optimise your site. You might even think about searching Google for "best SEO company" (if you don't know any better)…..
Fact 2 – Google just applied the Penguin update to its natural listings.
There are lots of SEO companies in the UK – but this is one serp Google isn't showing local results for.
I'll leave you to be the judge on the quality of this results page (I've not heard of most of them), but do we in the UK really need such an international line-up for this term?
Are these the best results Google can deliver for UK searchers?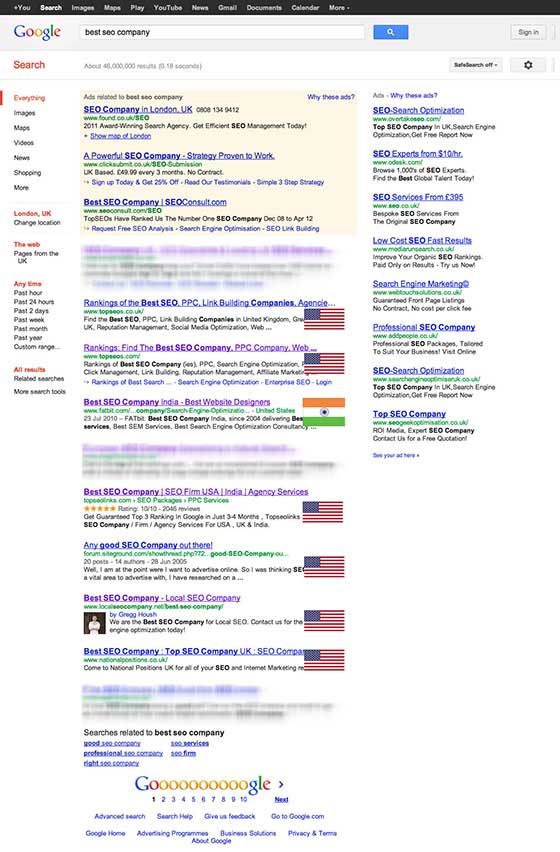 That's right…. riddled with US companies for a start. Way to kick the UK when it's down. It's not even US SEO companies I have come to respect after ten years in marketing that appear in these listings.
That set of results either serves to offer such low-quality organic results people search on sponsored ads, or blatantly transfer revenue from the UK to the US. That's no conspiracy theory – I'm just saying what that page serves, in my opinion, whether or not Google is 'broke' at the moment.
It's a strange thing – because we know Google can create localised results at the drop of a hat when it wants to…..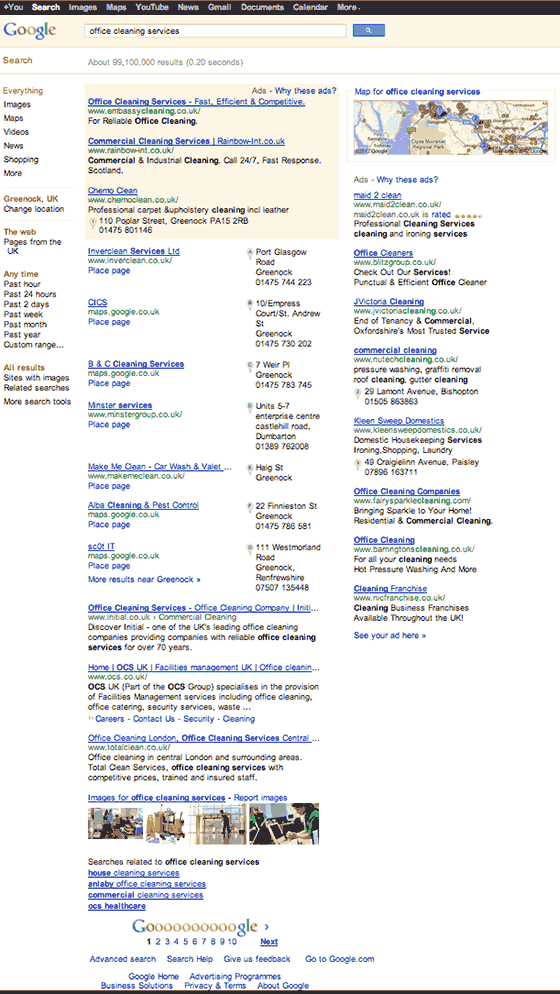 SECOND – I've moaned about TopSEOs before so I will let somebody else have a go…..
TopSEOs gets two rankings in that result above…..
It is frankly a disservice to the SEO industry that that shite (I did mean to say "site" but that actually works just as well….) has got away with (in my opinion) massive (near duplicate) press release spam about questionable (some say fake) SEO company 'rankings' – and ranks for ANYTHING after Google's recent 'over-optimisation' penalty.
Strange. Is that an indication how much search engines care's about the reputation of the SEO industry? Then again – does any search engine really care if you hire a crap SEO company or even a company that will scam you?
Apparently there were those who complained about Google's results – so an 'over-optimisation' penalty was needed. I wonder if complaints are up or down since the Penguin was applied….
The penguin update was supposed to:
"level the playing field"
…reward good sites and good content. Reward natural link profiles…… ummmm.
REALLY?.
It Actually Gets Better….
THIRD. Check out the cutting edge on page SEO employed by one of the winners in the top ten…… well done to them!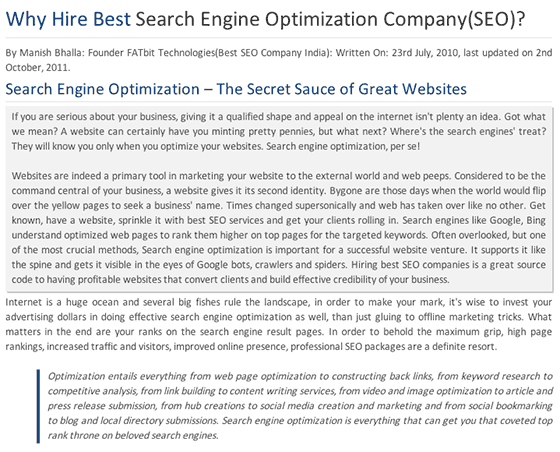 ….and I thought Dave Naylor's grammar was shite (there's that word again).
Did Google turn Pagerank off or something?
I'm just asking – as Pagerank – on its own – would probably produce better results than that this and a lot of the searches everybody else is complaining about.
There's even an online petition to Google to REVERSE the recent algorithm changes some think they are so bad. You can even tell Google if you think your site was unfairly penalised.
There's a lot of 'unnatural link warnings' going about….. problem is – the sites with unnatural link penalties are being replaced with sites with unnatural link profiles….
Strange times.
To Be Fair….
To be fair – Bing's results are ropey as well for this term – wasn't Bing just telling us about good SEO for bing and the importance of good editorial links not long ago? I expect Google to be better, though – even when I am drinking the Kool-Aid.
It's ironic to compete for something like 'best SEO company' in search engines, you might very well need to employ the same tactics that will eventually lead to penalties further down the line. Use that for an analogy of every other valuable key term, if you want to.
…. it's almost as if search engines invite you to break the rules to compete before they slap a penalty on you….
…strange that, isn't it.
A lot of strange going on at the moment, it seems.