…or Beatthatquote.com – part deux. FRIDAY fun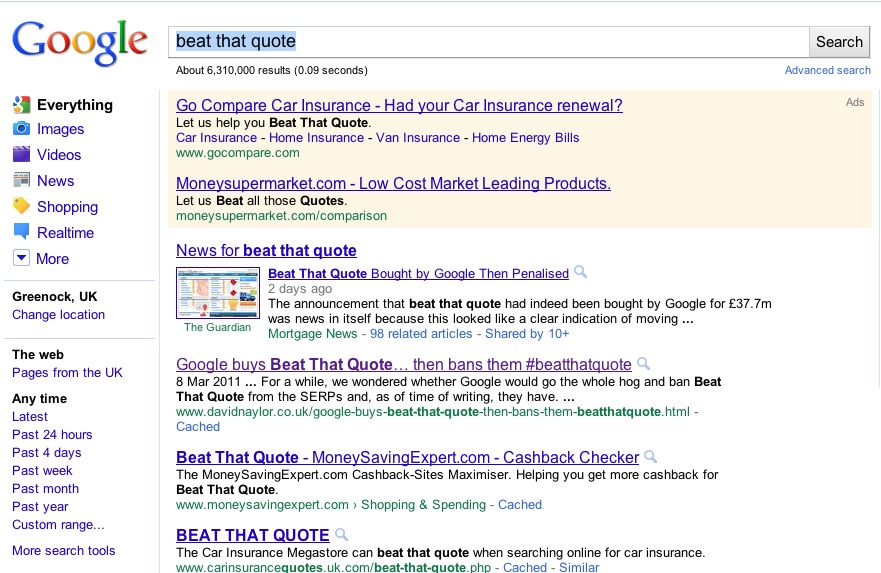 LOL – Well done Dave & the team – no1 ranking in Google organic listings for 'Beat That Quote'. I wonder if that is creating a "frustrating user experience"…. 

(If you are looking for Beat That Quote in the UK, the comparison site Google bought, and then penalised the next day for questionable seo tactics (well, it looks like paid links) – you won't find them at the moment – you'll find Dave's seo blogwhich is a blog I usually read every week if you don't know)
Brings back nice memories.
I wonder if Google has a back-up plan for domain strength / link popularity in 2011. Probably not – it seems to be the cornerstone of the SERP these days – and for years.
Funny I didn't think Dave did finance. 

Have a nice weekend 

PS  - I should point out it was actually Paul Carpenter who maybe should get the credit for writing the post on Dave's site.
UPDATE – I see my mate Rishi is going for it as well lol – and it's interesting to see beat that quote now pushing hard on the Google Adwords spend too according to the image below….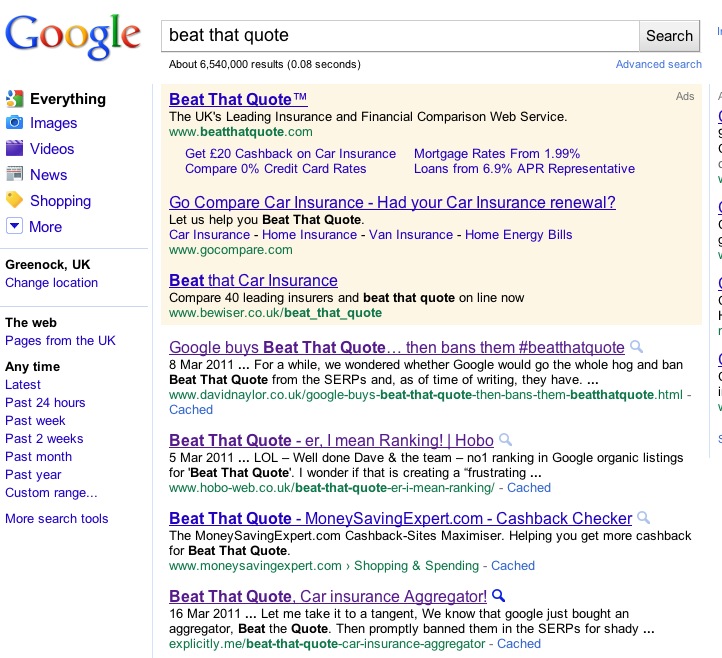 Update 2 – My friend Rishi obviously has too much time on his hands

Kudos to him for creating a great piece of content to in fact rank no1 for 'beat that quote' though I missed getting a screenshot. It enabled him to pick up some quality links and a flurry of social media links to his post – proving if you are willing to put a few hours work into a piece of quality content, and have built up good relationships online, you can come from behind and win in Google SERPS.

Rishi was one of the first to spot Google I mean Beat That Quote  was back in Google search engine results for it's brand term.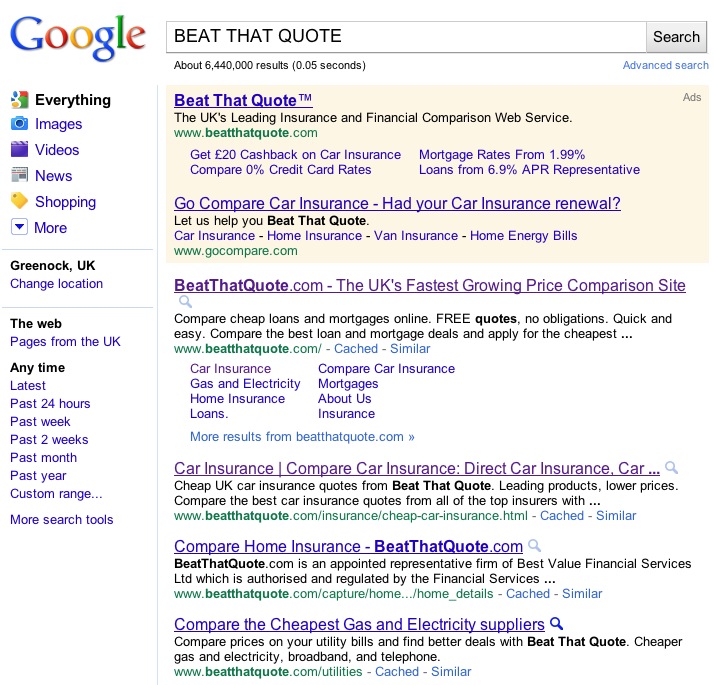 SEO Cry Foul
Beatthatquote.com now ranks for 'beat that quote' brand terms again – so the ranking penalty lasted for 2 weeks, as Rishi pointed out.
At this time it's yet unclear if this penalty is still in place for more valuable market key-terms like 'car insurance', for instance.
A few seo friends including Aaron Wall have pointed out  the apparent double standards with the whole Beat That Quote debacle. A 'token penalty' one could be forgiven for thinking.
While it's clear smaller businesses wouldn't receive the same support for 'brand' terms if they were penalised, it was just making the SERP for the term 'beat that quote' a bit of a joke, and indeed, a bit embarrassing to Google (perhaps).
I'm not surprised to see it back at all.